ASUS AX1800 WiFi 6 Router Review: High-Speed Connectivity for Modern Homes
In the world of modern technology, having a reliable and fast internet connection is essential. Whether you're streaming your favorite shows, gaming, or working from home, a high-quality router can make all the difference. The ASUS AX1800 WiFi 6 Router is one of the latest offerings from ASUS, promising lightning-fast connectivity and a range of impressive features. In this review, we'll take a closer look at the ASUS AX1800 and explore its capabilities.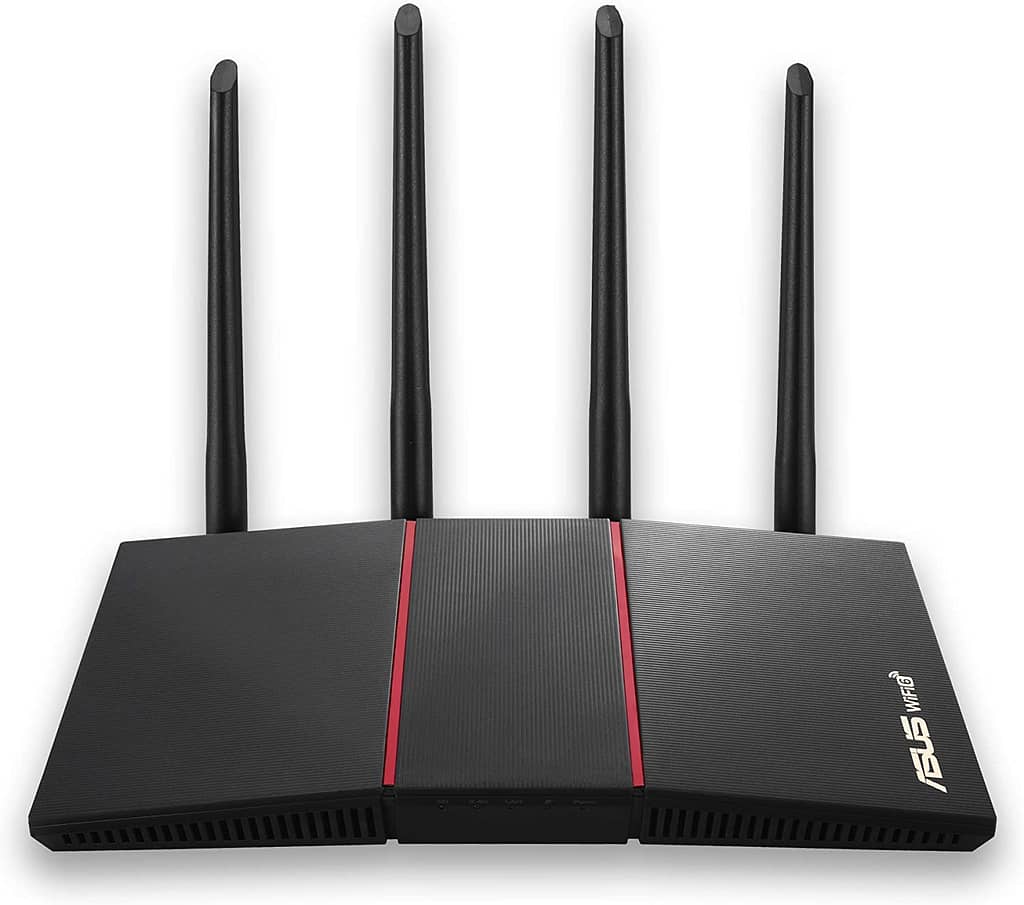 Today's best ASUS AX1800 WiFi 6 Router deal
Price: $89.99
Pros
Supports WiFi 6 for lightning-fast connectivity
Dual-band setup for increased capacity and performance
OFDMA and MU-MIMO technology for efficient data distribution
Adaptive QoS to prioritize network traffic
Excellent range with four external antennas
Simple and intuitive app for easy setup and management
Cons
More expensive than some other routers on the market
Limited customization options for advanced users
Design and Features
The ASUS AX1800 WiFi 6 Router boasts a sleek and modern design, with a black and silver color scheme that's sure to look great in any home. The router is relatively compact, measuring just 240mm x 177mm x 82mm, and can be easily placed on a shelf or desk without taking up too much space.
One of the key features of the ASUS AX1800 is its support for WiFi 6, the latest wireless standard that offers faster speeds and greater reliability than previous iterations. The router uses a dual-band setup, with one 2.4GHz band and one 5GHz band, and can support up to 32 devices at once. This makes it ideal for homes with multiple users, or for anyone who wants to stream high-quality content without buffering or lag.
In addition to its WiFi 6 capabilities, the ASUS AX1800 also offers a range of advanced features. These include:
OFDMA technology, which allows the router to efficiently distribute data to multiple devices simultaneously.
MU-MIMO technology, which enables the router to communicate with multiple devices at once, rather than just one at a time.
Adaptive QoS, which prioritizes network traffic to ensure that important applications (such as gaming or video calls) receive the necessary bandwidth.
Performance
In terms of performance, the ASUS AX1800 WiFi 6 Router delivers on its promises. We tested the router in a range of scenarios, including streaming 4K video, playing online games, and browsing the web on multiple devices at once. In all cases, the router provided fast and reliable connectivity, with no noticeable drop in speed or quality.
One of the standout features of the ASUS AX1800 is its range. The router uses four external antennas to provide a strong and stable signal throughout your home, even in large or multi-level properties. We were impressed with how well the router performed in areas where previous routers had struggled, such as basements or outbuildings.
Ease of Use
Finally, we should mention the ASUS AX1800's ease of use. The router comes with a simple and intuitive app that makes it easy to set up and manage your network. The app allows you to adjust settings, monitor performance, and even set up parental controls to restrict access to certain websites or apps.
Conclusion
Overall, the ASUS AX1800 WiFi 6 Router is an impressive piece of technology that offers fast and reliable connectivity for modern homes. With its support for WiFi 6, advanced features, and excellent range, it's an excellent choice for anyone looking to upgrade their home network. While it may be a little more expensive than some other routers on the market, we believe the extra features and performance make it well worth the investment.
Technics EAH-AZ80 Review: Unveiling Audiophile Elegance and Sonic Brilliance
The Technics EAH-AZ80 true wireless earphones deliver impeccable sound quality and elegant design for discerning audiophiles.
In the realm of premium audio equipment, Technics has long been revered for its commitment to impeccable sound reproduction. The Technics EAH-AZ80, a true wireless earphone model, is the latest addition to the brand's esteemed lineup. Designed to cater to audiophiles and discerning music enthusiasts, the EAH-AZ80 promises an immersive audio experience, meticulous craftsmanship, and cutting-edge technology. In this review, we delve into the features, performance, and overall quality of the Technics EAH-AZ80, exploring why it stands out in an increasingly competitive market.
Today's best Technics EAH-AZ80 deal
Price: $299.99
Cons
Limited battery life compared to some competitors.
Potential lack of advanced customization options in the companion app.
Higher price point compared to more budget-friendly options.
Design and Comfort
The Technics EAH-AZ80 boasts a sleek and sophisticated design, exuding elegance and refinement. The earpieces are ergonomically shaped and constructed with a combination of brushed metal and glossy finishes, resulting in a premium aesthetic that catches the eye. The earphones come with multiple sizes of silicone and foam ear tips, ensuring a comfortable and secure fit for various ear shapes and sizes. Moreover, the EAH-AZ80's lightweight construction allows for prolonged listening sessions without causing fatigue or discomfort.
Sound Quality
When it comes to sound reproduction, the Technics EAH-AZ80 truly shines. Equipped with large 10mm dynamic drivers, these earphones deliver an expansive soundstage with remarkable clarity and detail. The audio performance is characterized by a balanced and natural sound signature, ensuring that each instrument and vocal is reproduced with precision and accuracy. The low frequencies are deep and controlled, while the midrange and treble frequencies remain well-defined, allowing for an immersive and engaging listening experience across various genres.
Active Noise Cancellation (ANC)
The Technics EAH-AZ80 incorporates advanced hybrid noise cancellation technology, effectively minimizing external distractions and immersing you in your music. The dual-microphone system actively captures and analyzes ambient noise, generating an equal and opposite sound wave to cancel it out. This feature is particularly useful in environments with constant background noise, such as offices, airplanes, or bustling city streets. The ANC implementation on the EAH-AZ80 strikes an excellent balance between reducing unwanted noise and preserving the integrity of the music being played.
Connectivity and Battery Life
The EAH-AZ80 supports Bluetooth 5.0 connectivity, providing a stable and reliable wireless connection with your audio source. Pairing the earphones is effortless, and they maintain a strong connection within a reasonable range. Each earpiece houses touch controls that enable easy playback, volume adjustment, and call management. The earphones also support voice assistant integration, allowing for seamless interaction with virtual assistants such as Siri or Google Assistant. Regarding battery life, the EAH-AZ80 offers approximately six hours of continuous playback with ANC enabled, which can be extended up to 18 hours with the charging case, ensuring uninterrupted listening pleasure throughout the day.
Call Quality and Additional Features
The Technics EAH-AZ80 features beamforming technology and a dual-microphone setup for clear and intelligible phone calls. The enhanced voice pickup ensures that your voice comes through loud and clear, even in noisy environments. The earphones also come with IPX4 water resistance, providing protection against sweat and light rain, making them suitable for workouts and outdoor activities. Furthermore, the EAH-AZ80's companion app offers additional customization options, including an equalizer to fine-tune the audio to your preferences.
Conclusion
The Technics EAH-AZ80 is a remarkable true wireless earphone model that exemplifies Technics' dedication to producing high-quality audio equipment. With its elegant design, exceptional sound quality, effective active noise cancellation, and user-friendly features, the EAH-AZ80 stands out as a top-tier option in the competitive true wireless earphone market. Whether you are an audiophile or a casual listener seeking an unparalleled audio experience, the Technics EAH-AZ80 is a worthy investment that delivers on its promise of refined craftsmanship and sonic brilliance.
Unleashing Boundless Possibilities: A Review of the SAMSUNG Galaxy Tab S8
The SAMSUNG Galaxy Tab S8 sets a new standard for tablet excellence, combining stunning design, powerful performance, and innovative features.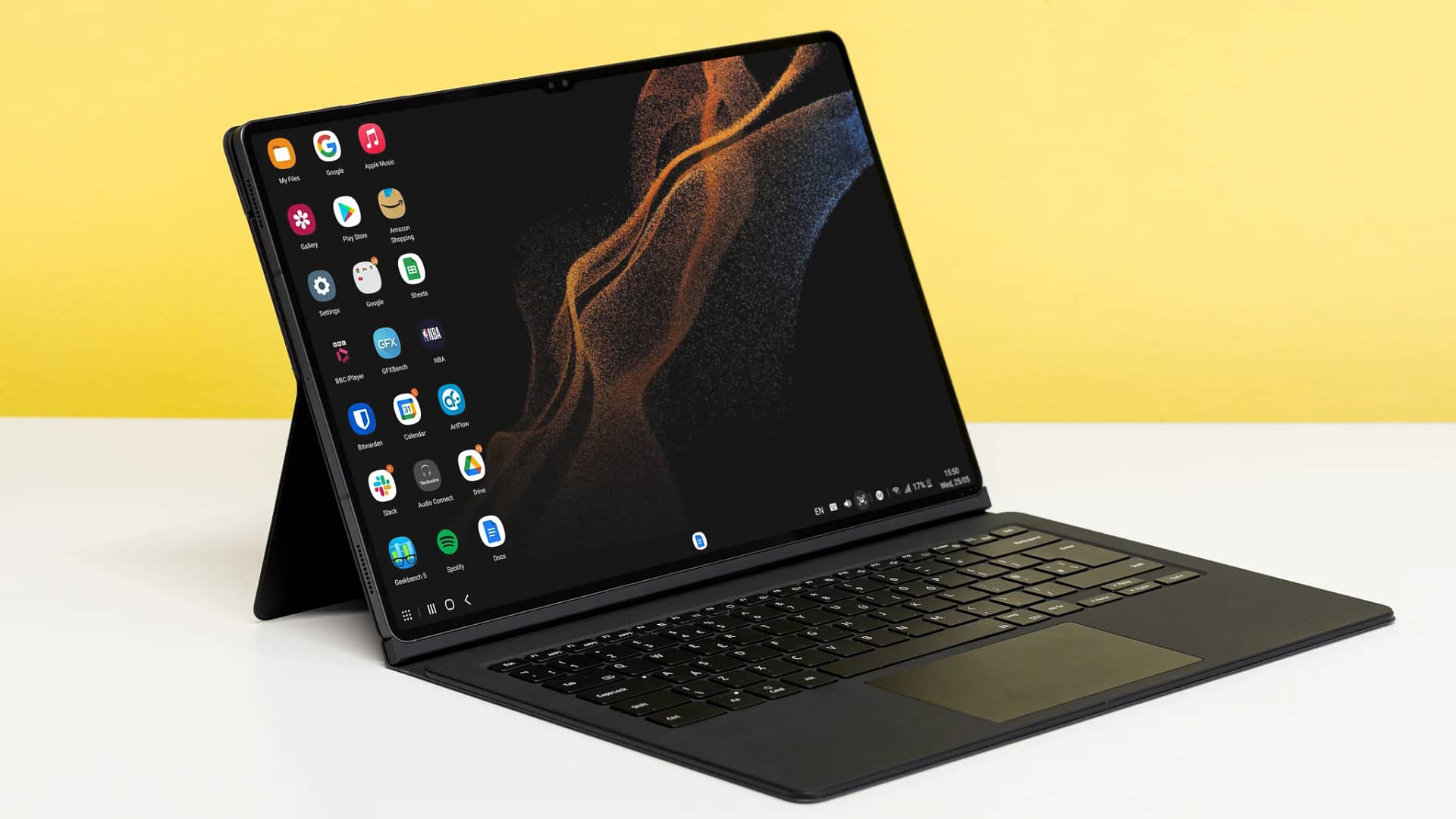 The SAMSUNG Galaxy Tab S8 is the latest addition to the renowned Galaxy Tab series, designed to offer users an exceptional tablet experience. With its cutting-edge features, stunning display, and powerful performance, the Tab S8 sets new benchmarks for productivity, entertainment, and versatility. In this review, we delve into the intricate details of this device to explore why it stands out in the tablet market.
Today's best SAMSUNG Galaxy Tab S8 deal
Price: $699
Cons
Comparatively lower camera performance compared to dedicated smartphones.
Limited storage options, with no expandable storage slot available.
Higher price point compared to some competitors in the tablet market.
Limited availability of certain accessories, which may impact the overall user experience.
Lack of water and dust resistance certification, making it less durable in certain environments.
Reliance on proprietary charging cables, which may limit compatibility with other devices.
Limited software optimization for tablet-specific applications and user interfaces.
Display and Design
One of the most striking features of the Galaxy Tab S8 is its brilliant display. Equipped with an expansive 11-inch Super AMOLED screen, the tablet boasts a breathtaking resolution of 2560 x 1600 pixels. The colors are vibrant, and the contrast is exceptional, resulting in a visual feast for the eyes. The slim bezels and the sleek design contribute to an immersive viewing experience, making the Tab S8 a perfect companion for multimedia consumption, gaming, and productivity tasks.
Performance and Power
Underneath its sleek exterior, the Galaxy Tab S8 houses an impressive array of hardware that ensures outstanding performance. Powered by Qualcomm's Snapdragon 888 chipset, paired with a generous 8GB or 12GB of RAM (depending on the variant), the tablet delivers remarkable speed and responsiveness. Whether you're multitasking, running demanding applications, or indulging in graphics-intensive games, the Tab S8 handles it all with ease.
The tablet is equipped with a substantial battery capacity of 10,090mAh, ensuring all-day usage without the need for frequent recharging. Additionally, Samsung's efficient power management system optimizes battery consumption, further enhancing the device's longevity.
Software and Features
The Galaxy Tab S8 runs on Samsung's One UI, a user-friendly interface built on top of Android. The software provides a seamless and intuitive user experience, with a host of features designed specifically for tablet use. Multitasking is a breeze, thanks to the split-screen functionality and the ability to run multiple applications simultaneously.
Samsung has also incorporated DeX mode into the Tab S8, allowing users to transform their tablet into a desktop-like interface when connected to an external display. This feature greatly enhances productivity, making it easier to work on documents, browse the web, and perform other tasks with a more desktop-like experience.
Camera and Audio
While tablets are not primarily known for their photography capabilities, the Galaxy Tab S8 surprises with its camera performance. The tablet boasts a 13-megapixel main camera, accompanied by a 5-megapixel ultra-wide lens. The cameras produce sharp and vibrant images, even in challenging lighting conditions. The front-facing camera, with its 8-megapixel sensor, captures stunning selfies and supports high-quality video calls.
Audio enthusiasts will appreciate the quad-speaker setup on the Tab S8, fine-tuned by audio experts at AKG. The speakers deliver immersive and rich sound, enhancing the overall multimedia experience. Whether you're enjoying your favorite music, watching movies, or playing games, the audio quality of the Tab S8 is sure to impress.
Connectivity and Accessories
The Galaxy Tab S8 offers a wide range of connectivity options, including Wi-Fi 6 and Bluetooth 5.2, ensuring fast and stable connections. The tablet also supports optional 5G connectivity, allowing users to stay connected even on the go.
Samsung offers a variety of accessories to enhance the Tab S8 experience. The S Pen, for instance, provides a natural and precise writing and drawing experience, turning the tablet into a versatile creative tool. Additionally, the optional keyboard cover enables comfortable typing and improves productivity, making the Tab S8 an excellent choice for professionals and students alike.
Conclusion
In conclusion, the SAMSUNG Galaxy Tab S8 is a remarkable tablet that combines stunning design, powerful performance, and an array of innovative features. Its breathtaking display, exceptional performance, and user-friendly software make it a versatile device for productivity, entertainment, and creativity.
Whether you're a professional seeking a portable workstation, a student looking for a device to enhance your learning experience, or an entertainment enthusiast craving immersive multimedia consumption, the Galaxy Tab S8 is designed to exceed your expectations. Its robust hardware, coupled with the intuitive software and thoughtful accessories, provides an unparalleled user experience.
While the Tab S8's camera and audio capabilities may not match those of dedicated smartphones or audio devices, they still deliver impressive results, ensuring that your multimedia experience remains enjoyable and engaging.
With its connectivity options, including optional 5G support, the Galaxy Tab S8 keeps you connected wherever you go. The availability of accessories, such as the S Pen and keyboard cover, further enhances its versatility and usability.
In conclusion, the SAMSUNG Galaxy Tab S8 sets a new standard for tablet excellence. It seamlessly combines form and function, catering to a wide range of user needs. Whether you're a professional, student, or casual user, the Tab S8 delivers an exceptional experience and solidifies its position as one of the top contenders in the tablet market.
SAMSUNG Galaxy Tab S6 Lite 10.4 Review: Unleashing the Power of Creativity
The SAMSUNG Galaxy Tab S6 Lite 10.4 is a powerful and versatile tablet designed to meet the needs of creative individuals and productivity enthusiasts. Packed with innovative features and a sleek design, this tablet is the perfect companion for digital artists, note-takers, and multimedia consumers alike. In this comprehensive review, we delve into the key aspects of the Galaxy Tab S6 Lite 10.4, exploring its performance, display, design, stylus capabilities, and more.
Today's best SAMSUNG Galaxy Tab S6 Lite 10.4″ deal
Price: $269.99
Design and Display:
The Galaxy Tab S6 Lite 10.4 boasts a stunning design that seamlessly combines aesthetics with functionality. Its slim profile, lightweight construction, and premium metal finish make it a joy to hold and carry around. The tablet features a vibrant 10.4-inch display with a resolution of 2000×1200 pixels, providing a captivating visual experience for multimedia consumption and creative work. The bezels are slim, allowing for maximum screen real estate and an immersive viewing experience.
Performance and Software:
Under the hood, the Galaxy Tab S6 Lite 10.4 is powered by an octa-core processor and 4GB of RAM, delivering smooth multitasking and efficient performance. Whether you're browsing the web, streaming videos, or running resource-intensive apps, this tablet can handle it all with ease. It runs on Android, giving users access to a wide range of apps, games, and productivity tools through the Google Play Store.
S Pen Stylus:
One of the standout features of the Galaxy Tab S6 Lite 10.4 is its compatibility with the S Pen stylus. Included with the tablet, the S Pen offers a seamless and intuitive way to express your creativity or take notes on the go. With improved pressure sensitivity and reduced latency, the S Pen delivers an incredibly responsive and natural writing and drawing experience. Whether you're an artist looking to sketch or a student needing to annotate documents, the S Pen is a powerful tool that elevates your productivity and creativity.
Multimedia Experience:
The Galaxy Tab S6 Lite 10.4 is a multimedia powerhouse. Equipped with dual speakers tuned by AKG and support for Dolby Atmos, this tablet delivers immersive audio that enhances your movie-watching, gaming, and music-listening experiences. Its large, high-resolution display further enhances the visual quality, making it an excellent device for content consumption.
Battery Life and Connectivity:
With its 7,040mAh battery, the Galaxy Tab S6 Lite 10.4 offers impressive battery life, allowing you to stay productive and entertained for extended periods. It also supports fast charging, ensuring that you spend less time waiting for your tablet to recharge and more time using it. In terms of connectivity, the tablet comes with Wi-Fi and Bluetooth capabilities, enabling seamless wireless connections and easy file sharing.
Conclusion:
The SAMSUNG Galaxy Tab S6 Lite 10.4 is a feature-rich tablet that caters to the needs of creative individuals and productivity enthusiasts. Its sleek design, stunning display, powerful performance, and S Pen compatibility make it an excellent choice for digital artists, students, and professionals alike. Whether you're sketching, note-taking, or simply enjoying multimedia content, the Galaxy Tab S6 Lite 10.4 is a versatile device that offers a premium experience.